Introduction
Hyperwrite.AI is an AI-driven writing service that has gained recognition for its ability to help students with their overwhelming academic workload. This platform creates well-crafted essays, albeit with a slightly longer generation time. It offers a free plan and has a user-friendly design, complemented by an available Chrome extension. However, some users may find the essay generation process somewhat time-consuming, and the services it offers are somewhat limited.
Ordering process
The service enables users to input specific prompts for the AI to generate essays. For example, the Academic Help team tasked Hyperwrite.AI with producing a 550-word university-level personal narrative essay with MLA citations. The AI then produces the essay based on these instructions. It uses a chat system where users can outline their requirements, and when the essay is complete, it can be run through a plagiarism checker available on the platform.
Quality of writing
The essays produced by Hyperwrite.AI are of high quality, demonstrating good grammar, style, and coherence. They also showed successful adherence to the provided guidelines such as referencing, outlining, and formatting. However, the service lacks additional features that may be required for a college-level paper, like a grammar checker or citation assistance.
Customer support
Hyperwrite.AI provides a guide and a support team ready to assist users who may find certain aspects of the platform puzzling. This support is available via site chat and phone, providing a prompt response to any inquiries or issues.
Pricing and discounts
Hyperwrite.AI offers a free plan with limitations, providing 15 rewrites and 500 typeaheads (an autofill feature) per month. For users requiring more, the platform offers a monthly subscription, with the Premium and Ultra plans priced at $19.99 and $44.99 respectively. These paid plans offer unlimited typeaheads and rewrites.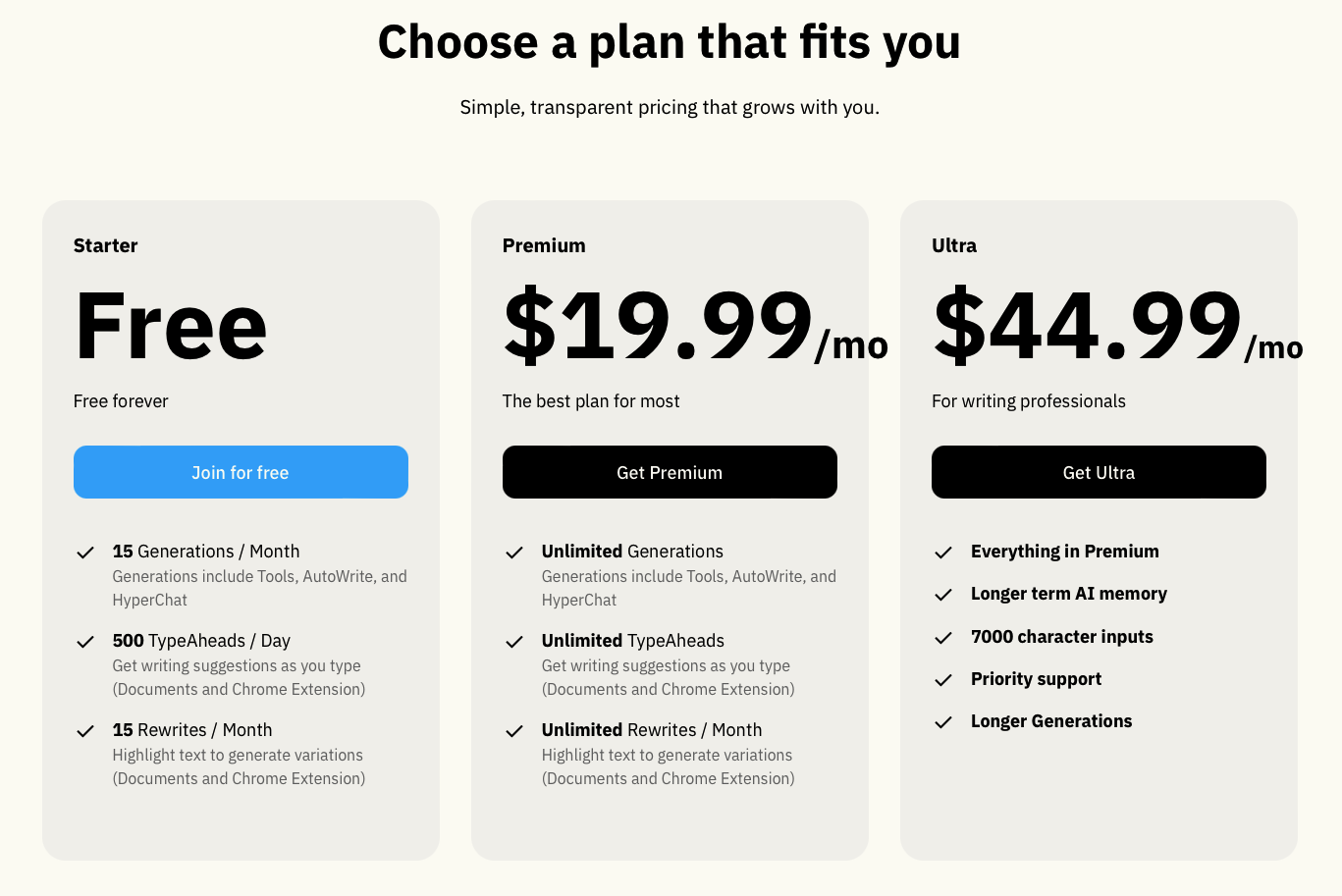 Delivery
The generation process for a complete essay can take up to half an hour. However, the quality of the final product, including the essay's structure, formatting, and outline, is highly commendable.
Additional features
The platform also offers free revisions and a plagiarism checker. Moreover, users can directly communicate with the AI via a chat system to provide the task instructions. One particularly convenient feature is the Chrome extension, which allows learners to utilize the service while working online.
Conclusion
Hyperwrite.AI stands as a valuable tool for students seeking assistance with their academic writing tasks. Despite a few limitations, the high-quality output, user-friendly interface, and reasonable pricing structure make it a recommendable option. However, users should be aware that while the AI does an impressive job, it is not a replacement for individual effort and creativity in writing. Rather, it should be used as a guide or a starting point to build upon.