Introduction
Notion AI is an AI-powered writing service designed to simplify and streamline the essay writing process for students. It offers a range of features, including AI chat, grammar check, rewriting and paraphrasing, summarizing, and brainstorming. This review aims to evaluate Notion AI's performance in terms of its ordering process, writing quality, customer support, pricing, delivery, and additional features.
Ordering Process
To use Notion AI, students must have a Notion account. The service is available on the web version as well as desktop and mobile apps. Once logged in, users can access the AI chat and grammar check features. Users input instructions in the prompt bar, and the AI writing assistant generates the requested content within 1 to 3 minutes.
Quality of Writing
Notion AI successfully generates content that emulates human writing style, although it lacks certain elements such as personification and individual reflections. It can produce text with decent grammar, punctuation, and word choice, but it does not generate references or citations. The AI-generated essays can serve as a good starting point for students, but they will need to invest additional effort to meet university requirements.
Customer Support
Notion AI does not offer a support chat on the platform. However, it provides guides with detailed instructions for users who require assistance.
Pricing and Discounts
Notion AI offers both free and paid plans. The free plan includes 20 AI prompts, while the Plus plan costs $10 per month or $8 per month when billed annually. The pricing is considered reasonable for the level of assistance provided.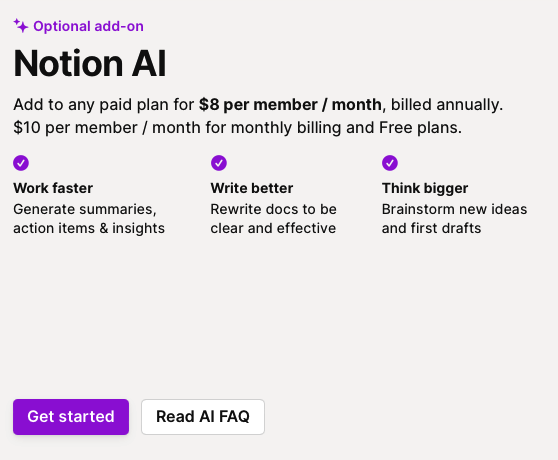 Delivery
Users work directly in the Notion system, receiving the generated content quickly. The AI writing tool produces plain text with paragraph separation and can format the text upon request. However, students will need to adjust headings, titles, and double spacing themselves.
Additional Features
Notion AI's additional features include rewriting and paraphrasing, summarizing, brainstorming, and grammar check. The platform does not offer tools such as a research assistant, reference finder, plagiarism checker, or in-text citations in MLA and APA formats.
Conclusion
Notion AI offers a practical and user-friendly solution for students seeking help with essay writing. While it provides decent assistance at an affordable price, users should be prepared to invest additional effort to meet university standards. The platform could benefit from improvements in writing quality and the inclusion of more comprehensive writing tools. Overall, Notion AI can be a valuable resource for students, but they should approach it with realistic expectations and a willingness to put in extra work.
Notion AI Writing Service: Pros and Cons
| Pros | Cons |
| --- | --- |
| Affordable pricing with free and paid plans | Writing quality could be improved |
| User-friendly interface and easy ordering process | Lack of comprehensive writing tools |
| Helpful features such as grammar check and rewriting | Does not generate references or citations |
| Quick content generation | Requires additional user effort to meet university standards |
| Available on web, desktop, and mobile apps | Customer support options are limited |