Introduction
Rytr.me is an AI-powered writing solution designed for users with moderate demands for functionality. It aims to provide a quick and efficient content generation experience, focusing on affordability and paper quality. However, the service offers limited text submission options and few additional services.
Ordering Process
Registering on Rytr.me is simple, secure, and flexible. Users can sign up using their email or one of the existing Apple, Facebook, Microsoft, or Google accounts. The website offers a clean and uncluttered design, guiding users step-by-step through the essay creation process. The service supports more than 30 languages, 40 templates and use cases, and 20 available tones for generated text.
Quality of Writing
The paper produced by Rytr.me scored 77.9/100, demonstrating a reasonably good quality output. The essay exhibited clear structure and easy-to-follow content, though it could have benefited from more elaborate examples and a more decisive conclusion. While the service shows potential, improvements in formatting and reasoning are necessary.
Customer Support
Rytr.me offers attentive customer support through live chat and provides video guides and tutorials for first-time or inexperienced users. This attention to customers ensures a smooth user experience and enhances overall satisfaction.
Pricing and Discounts
The website offers a free trial version, allowing up to 10,000 characters per month. Two types of paid monthly plans are available, the "Saver" for $9 and the "Unlimited" for $29, both offering a bonus of two months free when purchasing a yearly subscription. The value-for-money proposition depends on individual user needs and preferences.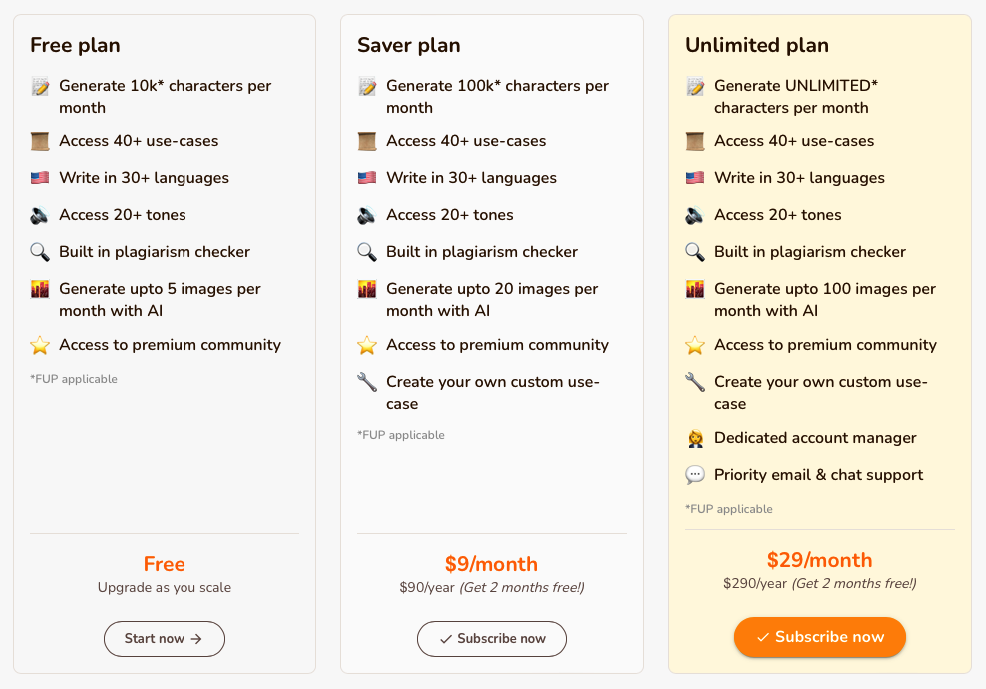 Delivery
The AI tool generates text quickly, with users typically receiving their essay within five minutes. The text is generated as a single, continuous fragment, and users are responsible for dividing it into meaningful paragraphs or other logical structures. Rytr.me provides a basic editor with limited functions, but clients can conveniently export the result to another format and continue working elsewhere if needed.
Additional Features
The service offers limited additional features, such as grammar check, plagiarism test, and an AI-chat assistant. However, it does not provide features like in-text or MLA/APA citations, which may be problematic for users seeking assistance with assignments that require proper referencing and citations.
Conclusion
Rytr.me is a suitable option for those seeking a quick and affordable AI-writing solution with moderate functionality. The service excels in customer support, paper quality, and user-friendliness. However, users who require a more comprehensive AI writing assistant with a broader range of services and features may need to explore other alternatives.
Rytr.me Pros and Cons
Pros
Affordable monthly "Saver" plan
High paper quality
Quick content generation
Cons
Scanty text submission options
Few additional services